Work has started on a boutique development of unusual homes at Clifton Moor, York.
The Neon 2 development has been created to help first time buyers in York get on the housing ladder.
Max Reeves, Development Director at Helmsley Group comments: "Our experience in the city over the last 36 years has revealed that while York is now well known for its strong housing market, it was also becoming notoriously hard for first time buyers to buy their own home.
"The three properties expand on our much-feted NEON development at Clifton Moor, which was 85% sold within the first couple of weeks of launch'.
He adds: "The houses have been kept small to keep them affordable for first time buyers, It's an innovative development that maximises internal floor space, with floor to ceiling windows to the front maximising light throughout the property."
Neon 2 homes will be available in Summer 2018, with the benefit of the Help to Buy scheme to assist first time buyers.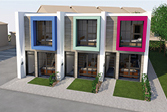 Visual 01 – Front Elevation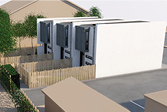 Visual 02 – Rear Elevating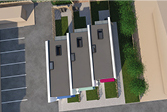 Visual 03 – Aerial View