EUROPE'S FIRST EVER POP-UP SHAKESPEAREAN THEATRE COMES TO YORK ON THE BARD'S BIRTHDAY, CAST AND CREATIVE TEAM ANNOUNCED FOR SHAKESPEARE'S ROSE THEATRE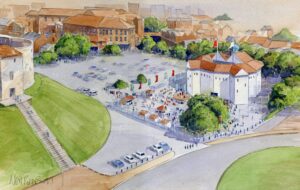 • Details revealed for unique summer of Shakespeare in the historic city of York that will see four of the Bard's greatest works performed in Europe's first popup replica Shakespearean theatre.
• Directors Lindsay Posner, Damian Cruden & Juliet Forster to lead two companies of actors performing Macbeth, Romeo and Juliet, A Midsummer Night's Dream and Richard III.
• Versailles star Alexander Vlahos to play Romeo opposite The Musketeers' Alexandra Dowling's Juliet while Requiem's Dyfan Dwyfor will play Richard III.
• Yorkshire's Richard Standing (Coronation Street, Mamma Mia!) to take the role of Macbeth with York's Leandra Ashton (Coronation Street, Holby City) as Lady
Macbeth, while a gender-swapping A Midsummer Night's Dream will see Antony Bunsee (RSC, Eastenders) play Titania with Amanda Ryan (Shameless) taking the role of Oberon.
• Visitors can also enjoy FREE ENTRY to Shakespeare's Village which will offer the best of Yorkshire's food and drink curated by television chef Brian Turner, as well as 'wagon' entertainment, an Elizabethan-style garden and more.
Today, on the birthday of William Shakespeare, full details have been announced for Europe's first ever pop-up Shakespearean Theatre – SHAKESPEARE'S ROSE THEATRE – which makes its debut in the historic city of York in June. Preparations are well underway for a ground-breaking 'Summer of Shakespeare'.
Situated beside the iconic York landmark of Clifford's Tower, SHAKESPEARE'S ROSE THEATRE will combine state-of-the-art scaffolding technology, corrugated iron and timber with the historic 13sided design of a 16th century Shakespearean theatre. It will house an audience of 950, with 600 seated on three tiered balconies around an open-roofed courtyard and standing room for 350 'groundlings'.
Four of William Shakespeare's most popular plays, across the genres, will be performed in repertory by two companies of actors during the 10-week season, from Monday 25 June until Sunday 2 September 2018: • A tragedy – Macbeth • A comedy – A Midsummer Night's Dream • A tragic love story – Romeo and Juliet • A history – Richard III
The traditional setting will host new interpretations of these famous works, both challenging and entertaining. Romeo and Juliet and Richard III will be directed by the award-winning Lindsay Posner, while York Theatre Royal's Olivier Award-winning Artistic Director Damian Cruden will direct Macbeth, and Associate Director Juliet Forster will be putting her stamp on A Midsummer Night's Dream.
Making up the York company are Gareth Aled (Lennox/Starveling), Leandra Ashton (Lady Macbeth/Peaseblossom), Antony Bunsee (Siward/Theseus & Titania), Clare Corbett (Witch 3/Puck), Fine Time Fontayne (Duncan/Egeus), Maria Gray (Witch 2/1st Fairy), Paul Hawkyard (Macduff/Bottom), Mark Holgate (Banquo/Demetrius), Emilio Iannucci (Malcolm/Flute), Amy Lennox (Mentieth/Hermia), Rina Mahoney (Lady Macduff/Quince), Olivia Onyehara (Angus/Helena), Jordan Peters (Ross/Lysander), Amanda Ryan (Hecate/Hippolyta & Oberon), Robin Simpson (Witch 1/Snout) and Richard Standing (Macbeth/Snug).
The York company creative team will be led by directors Damian Cruden (Macbeth) and Juliet Forster (A Midsummer Night's Dream) with designer Sara Perks, choreographer Philippa Vafadari, composer Chris Madin, fight director Jonathan Holby, and voice coach Yvonne Morley.
Making up the London company are Emma Darlow (Dorset/Balthazar), Alexandra Dowling (Lady Anne/Juliet), Dyfan Dwyfor (Richard III/Sampson), Gabriel Fleary (Brackenbury/Escalus), David Fleeshman (Stanley/Friar Laurence), Charlyne Francis (Second Murderer/Gregory), Robert Gwilym (Hastings/Capulet), Julie Legrand (Margaret/Nurse), Tom Lorcan (Rivers/Benvolio), Joey Phillips (Lovell/Abram), Shanaya Rafaat (Buckingham/Mercutio), Dale Rapley (Lord Mayor/Lord Montague),
Emily Raymond (Queen Elizabeth/Lady Capulet), Edward Sayer (Tyrell/Tybalt), Julia Swift (Duchess of York/Lady Montague), Richard Teverson (Clarence/Paris) and Alexander Vlahos (Catesby/Romeo).
The London company creative team will be led by director Lindsay Posner and associate director Martha Geelan, with choreographer Mike Ashcroft, designer Lee Newby, costume designer Sue Willmington, composer Olly Fox, fight director Kate Waters and voice coach Yvonne Morley.
Casting for SHAKESPEARE'S ROSE THEATRE is by Ginny Schiller, lighting design by Paul Pyant and sound design by Harry Johnson.
A trial build of the theatre in an off-site location outside York has been completed with work set to begin on the actual structure at the foot of 13th century Clifford's Tower within York's ancient city walls at the end of May.
Outside SHAKESPEARE'S ROSE THEATRE will be 'Shakespeare's Village', and exciting plans for this free-to-enter attraction have been revealed. Yorkshire-born celebrity chef and food ambassador for the Village, Brian Turner (Ready Steady Cook, Saturday Kitchen, A Taste of Britain), is creating a special street food menu with leading Yorkshire street food vendors, showcasing some of the best fare the county has to offer. In addition there will be locally-made ice cream and a fully licensed bar, all housed in traditional oak-framed and reed-thatched buildings.
Award-winning Yorkshire garden designer Sally Tierney has been engaged to design and create an Elizabethan garden, with ornate box-edged beds of cottage flowers, roses and herbs. Ms Tierney is the winner of a Silver-Gilt medal at the Royal Horticultural Society's renowned Chelsea Flower Show, as well as 'Best in Show' and numerous gold medals at the Harrogate Spring Flower Show.
The production team are also busy sourcing performers for the Village. During Elizabethan times, actors would often travel the country performing plays on farm wagons. Shakespeare's Village will feature a regular schedule of 'wagon entertainment' with sensational speeches, soulful sonnets and medieval music, as well as juggling jesters.
The original Rose Theatre was built in 1587 on the south bank of the River Thames in London. It was a slightly irregular 14-sided structure made of timber, with plaster exterior and a thatched roof, open in the centre to the elements. The success of The Rose Theatre paved the way for other theatres to be built in the area, including The Swan in 1595, The Globe Theatre in 1599 and The Fortune in 1600.
Originator of the project and CEO of international theatre production company, Lunchbox Theatrical Productions, James Cundall said "More than 400 years ago, the first audiences for Shakespeare's plays enjoyed an experience that was as intimate as it was exciting, crowded in close to the actors and the action, in a small theatre in the bustling city of London.
"In SHAKESPEARE'S ROSE THEATRE an experience every bit as exciting, intimate and immersive will be offered to today's audiences in a dramatic playhouse setting beside the iconic 13th century Clifford's Tower in the heart of the historic city of York.
"The unique environment of SHAKESPEARE'S ROSE THEATRE connects actors and audience together in ways many people will never have encountered before. While an interactive experience awaits those closest to the stage in the courtyard, no seat in the theatre will be more than 15m from the action, providing plenty of breath-taking, spine-tingling, heart-stopping moments!
Mr Cundall explained "One of our key aims is to offer comprehensive support for school groups, to encourage young people to see these plays, in this space. As well as special schools performances and prices we have established the Rose Bursary Scheme whereby schools with limited resources can apply for free tickets. I am delighted to say we have had great take-up from schools across the north of England.
"With dramatic sword-fights, bubbling cauldrons, wayward fairies, passionate love scenes, gruesome murders, grand poetry and no shortage of fake blood, audiences will experience the comic heights and tragic depths of Shakespearean theatre in a memorable setting," said Mr Cundall.
SHAKESPEARE'S ROSE THEATRE and Shakespeare's Village will be created and managed by Yorkshirebased Lunchbox Theatrical Productions.
The title sponsor of SHAKESPEARE'S ROSE THEATRE is Grand Central Rail, an established train operator on the East Coast line linking York to London. Other sponsors are Fenwick luxury department store; the Grand Hotel and Spa, York's only five star hotel; the Helmsley Group, a York-based investment company in commercial and residential property; the York Business Improvement District (BID), a business-led partnership that invests in improvements and enhancements to the centre of York and its businesses; Welcome to Yorkshire, the official tourism agency for the county of Yorkshire; and Yorkshire's daily national newspaper, the Yorkshire Post.
Supporters of SHAKESPEARE'S ROSE THEATRE include City of York Council, Cross Country Trains, English Heritage, First Group, Historic England, Make it York, University of York, York International Shakespeare Festival and York Museums Trust.
Donors to the Rose Bursary Scheme include The Holbeck Charitable Trust Foundation, Stephanie Overton and John Lindeman, Palace Capital and the Yorkshire Young Achievers Foundation.
Listing Information
Shakespeare's Rose Theatre
Tower Street, York, YO1 9SA
Monday 25 June – Sunday 2 September 2018.
Romeo & Juliet, Richard III, A Midsummer Night's Dream and Macbeth
Tickets from £12.50 (excluding booking/delivery fees)
For full performance schedule and ticket prices please visit www.shakespearesrosetheatre.com
Booking Information
Ticketmaster
Book online www.ticketmaster.co.uk
By phone 0844 844 0444
Calls cost up to 7p per minute plus your phone company's access charge.